Post By Related

Related Post
New Organic Teas Harness the Power of Healthful Ginseng. The most exciting British innovation since Beatlemania has landed in the U.S.! London-based Little Miracles is revolutionizing the flavored tea market with five innovative blends of organic teas and superfruit juices powered by carefully selected Panax ginseng. Hugely popular in the UK, where they know their tea, delicious Little Miracles blends are now available in the U.S!
Today's concerns about health and wellness are leading everyone down the natural and organic aisles. Little Miracles teas are an exciting, long-anticipated addition to consumer choice. Esteemed for its healthful properties, Panax ginseng adds the natural "zing" that makes these organic, non-GMO teas both refreshing and revitalizing, without the jitters or crash of typical energy drinks.
The delicious blends include:
Lemongrass Tea and Ginseng
Black Tea and Peach
Green Tea and Pomegranate
White Tea and Cherry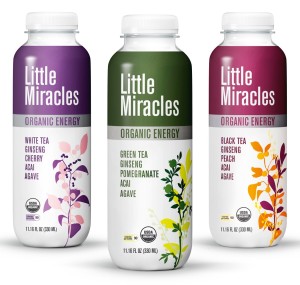 "These days, consumers expect more than just refreshment from their beverages," said Bob Groux, U.S. CEO of Little Miracles. "They want added value, particularly in terms of health and vitality. Little Miracles blend carefully selected Panax ginseng in its purest form with high-quality, organic teas and superfruits like acai berry and pomegranate for a powerhouse beverage."
Panax ginseng is believed to boost the immune system and combat fatigue as well as improve alertness, memory and concentration. Other benefits include increased stamina and stress reduction.
"Our customers want to feel more vital and productive without the jitters and crash you get with many so-called energy drinks," said Groux. "Our teas were developed with consumer health and well-being in mind. Panax ginseng is an ancient secret of traditional Chinese medicine that provides the best kind of natural vitality."
The potency and healing properties of ginseng are determined by variety (origin) and age. Chinese/Korean (Panax) ginseng is generally regarded as the most efficacious variety because of its abundance of active ginseosides, compounds believed most responsible for ginseng's healthful properties.1
Little Miracles teas are free from artificial colors, flavors and sweeteners. All blends are sweetened with organic agave and are 90 calories or less per serving. The teas come in 11 oz. re-sealable bottles.
Tea enthusiasts and health conscious consumers alike have anticipated this exciting addition to the bottled beverage aisle. Visit http://drinklittlemiracles.com/collections/ to learn more.