Summer 2023 brings forth a delightful array of hair trends that cater to sistas who love rocking updo hairstyles. From the chic blunt bobs to luscious major curls and the elegantly sleek ballerina buns, these styles not only offer respite from the heat but also embody the essence of the warmer season. Let's explore the best updo hairstyles that will have you turning heads wherever you go.
One standout hairstyle dominating this season is the high ponytail. Versatile and suitable for any occasion, each high ponytail exudes its own unique charm, making it a challenge to find two identical hairstyles. Whether you prefer a sleek and polished high ponytail with a knot for a professional look at the office or a playful and voluminous high ponytail with cascading curls for a night out, this style is a must-try.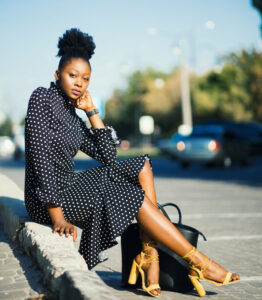 If you're seeking a chic and low-maintenance option, the blunt bob is your go-to hairstyle. This timeless look features a straight-across cut, offering a bold and edgy vibe. With its sharp lines and clean finish, the blunt bob can be worn sleek and straight for a sophisticated look or paired with beachy waves for a relaxed and effortless style. It's a versatile choice that suits various face shapes and adds a touch of elegance to your overall appearance.
For sistas who love embracing their natural curls, major curls are the epitome of glamour this summer. Big, voluminous curls create a statement look that exudes confidence and personality. Enhance your natural texture with a touch of product and let your curls take center stage. This carefree and effortless style is perfect for any occasion, whether you're attending a casual brunch or a glamorous evening event.
Last but not least, the sleek ballerina bun is a classic updo that never goes out of style. This refined and polished hairstyle offers a sophisticated and elegant look, making it ideal for formal events or even a chic everyday option. Achieve a sleek and neat bun by gathering your hair tightly at the nape of your neck and securing it with a hair tie. Add a touch of hairspray for a flawless finish that will keep your bun in place throughout the day.
This summer, embrace the heat with these stunning updo hairstyles. Whether you opt for the sleek high ponytail, the chic blunt bob, the voluminous major curls, or the sophisticated ballerina bun, you'll undoubtedly make a statement with your impeccable style and confidence. So, get ready to rock the best hair trends of the season and turn heads wherever you go.
Remember, it's not just about the hairstyle you choose—it's about embracing and celebrating your unique beauty as a sista.
Hair Style Report from Lisa Harris