Calling all women to take a stand and ELEVATE your life daily. The hottest accessory to incorporate in your fashion wardrobe is a crystal embedded jeweled "Queens Crown" moving into 2021.
Why should you CROWN yourself this year? And, the years to come?………..
Let's dive into the term and or definition of what wearing a QUEEN's Crown means. A crown can be defined as a traditional symbolic form of specially designed headwear, worn by a monarch or by a person for whom the crown represents power, authority, legitimacy, glory, victory, triumph, honor, immortality, righteousness and resurrection. – Reference Source Google.com
Now let's break this down. As we move daily into 2021 our mind as women must be aligned in a pure, positive, elevated state. As you meditate and practice daily on doing good towards all women regardless of race, religion or spiritual belief – this is what we call being in DIVINE-ORDER.  You see, it's not just the mere act of putting on a crown when among others or just you dancing and reflecting your beauty in the mirror. Our glory and power as women is to focus and actively work on being UNIFIED as women, regardless of our shortcomings that can always be cleared so we all can gravitate to a higher state of existence.
We are mothers, sisters, family, friends and business women. It is time to claim your royal mind-state now!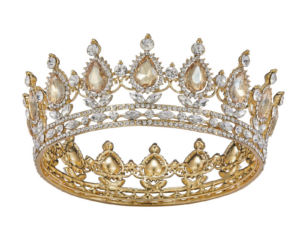 We must clean ourselves spiritually inside and out. Stop speaking negatively about women and partaking in negative degrading talk. PURGE yourself of negative beliefs about you or what any person has thrown against you. REVERSE the systematically old world mindset that is not focus on "ONLY THE GOOD THINGS".  We are quickly moving into a new world, where everything around us must change for the greater good.
Today, know it is a great time to CROWN yourself and place a beautiful jeweled crystal accessory such as a crown on your head right now. Style yourself up this year and create a new better you 🙂
Pretty Thoughts, Bring Pretty Things…
View This Video
Check out some of these CROWNS from Amazon and rock them on your Zoom live calls, in person and just as a fashion statement.
Blessings,
Lela Christine
Publisher of Goddess Couture News
Read more here at https://goddesscouturenews.com/
KNOW YOU ARE A QUEEN 1st..