The color pink has always been associated with femininity, grace, and elegance. And if you are looking for the perfect pink dress for any special occasion, Seezona has got you covered! The stunning "Dramatically Flowered Tulle Dress In Misty Pink" is the prettiest pink dress of the day and is sure to make any woman feel like a true princess.
This beautiful dress features a misty pink tulle fabric with an intricate floral design that adds a touch of whimsy to the overall look. The dress is full length, with a fitted bodice and a flared skirt that creates a flowing, ethereal silhouette. The floral embellishments are expertly crafted, and the colors blend together perfectly to create a harmonious and dreamy effect.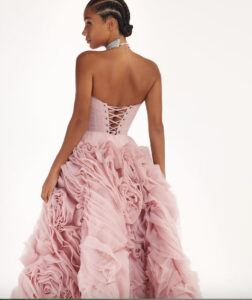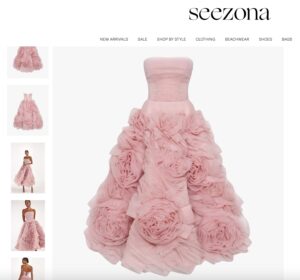 The dress is perfect for any formal or semi-formal occasion, whether it's a wedding, prom, or a fancy dinner party. It exudes a romantic and feminine vibe that is perfect for summer. The soft and delicate fabric adds a touch of elegance to the dress, while the pink color adds a playful and flirty touch that is sure to turn heads.
The "Dramatically Flowered Tulle Dress In Misty Pink" is also versatile and can be styled in many ways. Pair it with strappy heels and delicate jewelry for a classic and timeless look, or add a statement necklace and bold lipstick for a more daring and modern vibe. The dress can also be dressed down by pairing it with sandals and a denim jacket for a more casual yet still chic look.
In conclusion, if you're looking for a dress that will make you feel like the prettiest woman in the room, the "Dramatically Flowered Tulle Dress In Misty Pink" from Seezona is the perfect choice. It's feminine, elegant, and versatile, and will undoubtedly turn heads at any event. So go ahead and add some pink summer vibes to your wardrobe with this stunning dress!
Style Report Lela Christine