In a special appearance on "Tamron Hall," Halle Bailey, the talented actress set to portray Ariel in the upcoming live-action adaptation of "The Little Mermaid," shared insights about her audition process and discussed her groundbreaking role. During the show, Halle had the chance to meet a group of young fans who were treated to an exclusive screening of the highly anticipated film.
The heartfelt highlight of the episode came when Halle's sister, Chlöe, surprised her with a touching message. Chlöe expressed her overwhelming pride and admiration for Halle, emphasizing the impact her performance would have on young boys and girls who would now see themselves represented on screen. The heartfelt message moved Halle to tears and served as a powerful testament to the support and love between the siblings.
Reflecting on her audition for the iconic role of Ariel, Halle revealed her nervousness before meeting director Rob Marshall. However, her fears quickly dissipated as she encountered Marshall's kindness and warmth. Opting to start with a song, Halle's comfort zone, she poured her heart out and left everyone in the room deeply moved.
Fans eagerly await the premiere of "The Little Mermaid," where they will witness Halle Bailey's captivating portrayal of Ariel. With her talent, passion, and the support of her loved ones, Halle is poised to make a lasting impact and inspire generations to come.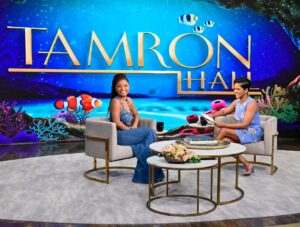 Report By Lela Christine