The stars looked radiant while walking the red carpet at the 73rd Annual Emmy Awards thanks to master esthetician, Sarah Akram! Emmy nominees Billy Porter and Max Minghella, presenter Angela Bassett, and Access Hollywood host and correspondent Scott Evans glowed as they walked last night's red carpet with help from Sarah Akram's individualized skincare treatments including the use of modern technology with all-natural products that brings anti-aging skincare to a whole other level.
Just know that Angela Bassett, Her Emmy Award Skin Look Fabulous thank toSarah Akram.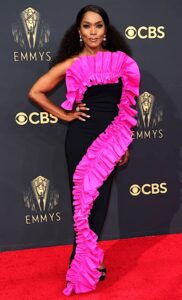 Sarah Akram provides the best in customized skincare treatments, modern technology with all-natural products, bringing anti-aging skincare to a whole other level. Without breaking down the skin with laser treatments, Sarah has discovered a way to provide effective skincare treatments to clients that leave them looking and feeling younger at the end of a session.
As a board licensed Master Esthetician, Sarah is one of the most sought after skincare specialists on the East Coast. With a roster of loyal A-list clients, Sarah was able to build a successful business in both New York City and Washington, D.C., where she was born and raised. After years of splitting her time between two cities, Sarah decided to lay down roots in Old Town Alexandria, Virginia to open up her own skincare boutique in 2015.
Fortunate to have been mentored by world-renowned skincare experts early in her career, Sarah is thrilled to offer the most effective, cutting-edge skincare at her boutique. With a team of highly skilled Master Estheticians, and exclusive partnerships with some of the world's best product lines, Sarah delivers an all-natural path to anti-aging skincare.