Black Seed Brightening Face Cleansing Jelly Is The Best For Your Face. It is a soap-free, natural jelly-textured wash formulated to be suitable for all types of skin but works best for normal to oily skin.
It contains unique Ayurvedic herbs and modern ingredients to provide your skin deep cleansing and freshness without stripping it dry.
The goodness of Kalonji (Black Seed) helps to even-tone and reduce stickiness and oiliness on the skin, gives you a light feel and glowing skin while Licorice brightens the complexion. And Saffron is a well-known glow-giving herb! Niacinamide adds to the whole brightening effect as well as keeps the skin's youthfulness intact.
This gentle face wash not only keeps your face oil and dirt-free but gives you smooth and even toned-looking skin with instant radiant glow! Connect and buy now – https://theayurvedaexperience.com/pages/a-modernica-nicumin-face-cleansing-jelly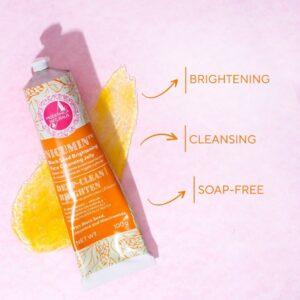 Black Seed Brightening Face Cleansing Jelly From The Ayurveda Experience