There are some great hairstyle trends for Black women this year! For shorter looks, you can opt for a pixie cut, a tapered cut, faux locs, or a tapered mohawk.
For longer looks, try a wavy bob, a long layered lob, or a textured shag. If you're looking for something a bit more daring, you can try a box braid bob, a half-up topknot, a braided updo, or a twist-out. No matter which style you choose, you'll be sure to look fabulous!
Hair Growth Tips
First, it's important to make sure you are eating a balanced diet and getting enough vitamins and minerals to support your hair's health. Additionally, you should use a mild shampoo and conditioner and avoid using too much heat on your hair. You should also consider using a leave-in conditioner or a hair mask to help provide extra hydration and nourishment.
Finally, try to limit the amount of styling products you use on your hair and make sure to use a wide-toothed comb or brush to avoid breakage. Following these tips can help you achieve healthy, long hair in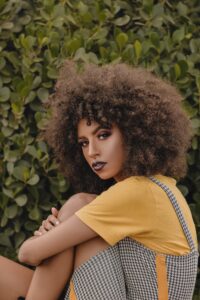 Report Lela Christine & Shauny White
Photo Credits:
Godisable Jacos & Marlon Schmeiski