How to make your own rose water. Here is what you need to get started:
Materials for homemade rose water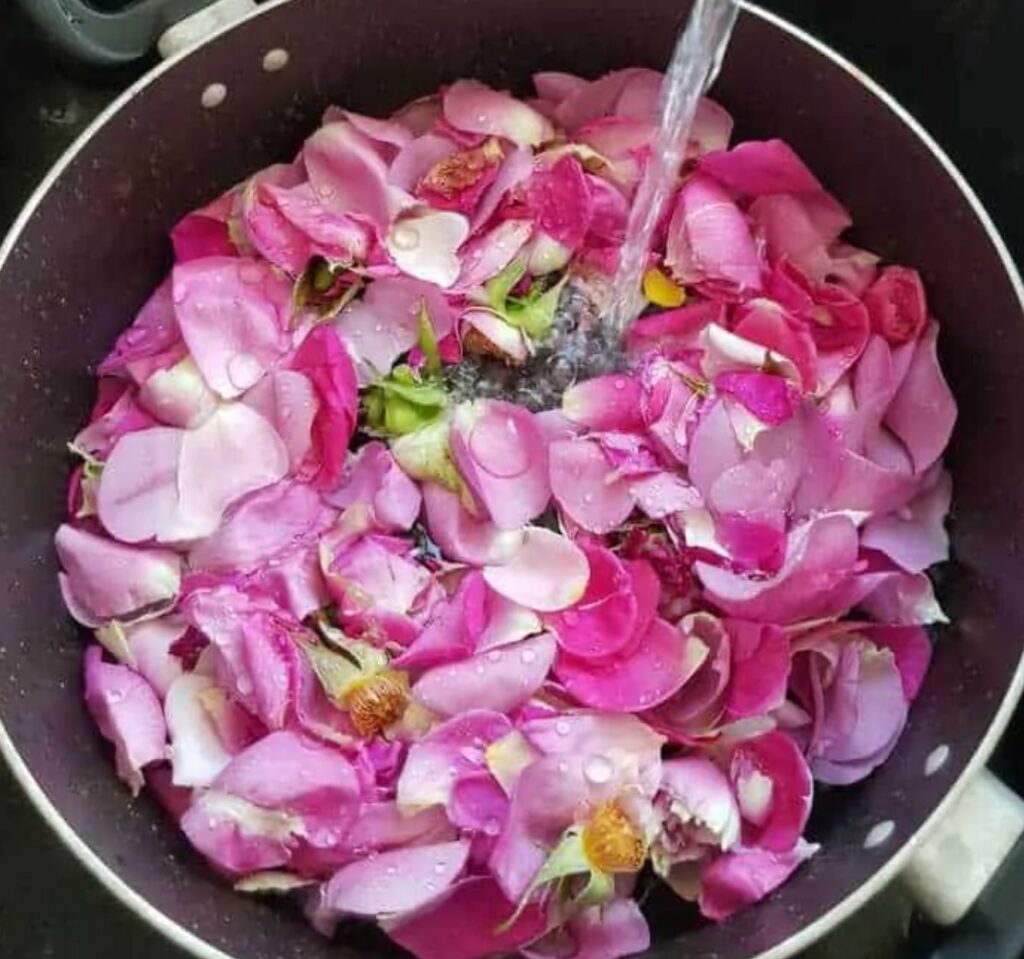 To get started making your own rose water, you'll need fresh, organic roses, a large pot with lid, a bowl that fits inside the pot with sides that go high enough to stop the boiling water from spilling over, a spoonful of vodka, and an empty wine bottle.
Fresh, organic roses (at least 4): It's best to make sure the roses you select are organic, so that you're not polluting your skin with pesticide-tainted rose extract. You can also buy dried, natural organic roses on Amazon. We like these organic rose petals by TooGet.
A large pot with lid: The lid should be slightly cone shaped, so that the water droplets fall down it when inverted. A flat lid will not work for this project. We like the Utopia Kitchen Quart Non-Stick Saucepan.
Medium-sized bowl: The bowl should fit easily inside of your pot, with sides that are high enough so that the boiling water doesn't spill over into the bowl during processing. We like this set of 3 Pyrex Glass Mixing Bowls.
Empty wine bottle: We'll show you how to get the label off later on, so you can use it to make a vessel for your rose water. Or just buy a label-less bottle. We like this set of six clear wine bottles with corks.
Vodka: Just a tablespoon of the alcohol will help the rose water last far longer, and is even known to add pore tightening properties to the tonic.
Optional:
Strainer: A strainer will make it easy to separate the rose petals from the water you wash them in. We like this fine mesh stainless steel strainer.
Funnel: A funnel will make sure you don't spill any of the precious tonic when pouring it into your wine bottle. We like this silicone collapsible kitchen funnel two-pack.
Bag of ice: This will help create more condensation when processing, which means more rose water, faster.
Read the following information refer to us here at https://happydiyhome.com/how-to-make-rose-water/