Consumption of the hibiscus extract reduced obesity, abdominal fat and serum free fatty acid, improved liver steatosis and could help to prevent obesity and non-alcoholic fatty liver disease. Both hibiscus and lemon verbena extracts were used with 54 overweight subjects and effectively helped to manage their weight as measured by energy expenditure, appetite control and lipid profile.
Hibiscus, in the form of a delicious tea and as an ancient medicinal therapy extracted from various parts of the plant, is a powerful booster for your health.
Hibiscus has both anti-inflammatory and antioxidant properties. In an in vitro study, hibiscus was found to decrease the inflammasome (which puts into motion inflammatory responses to infections and cell damage) nucleotide-binding domain, leucine-rich-containing family, pyrin domain-containing-3 (NLRP3). NLRP3 is associated with several human disorders such as Alzheimer's disease, obesity, rheumatoid arthritis, asthma, nonalcoholic fatty liver disease and autoimmune encephalitis[ix] and the pathogenesis of cardiovascular diseases including atherosclerosis, high blood pressure, infectious cardiac diseases and heart failure.
Read more here at https://bit.ly/3yKOAF9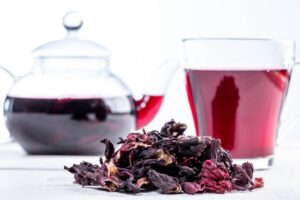 Drink This Tea Every Day to Lose Weight Naturally – Health Benefits of Hibiscus Tea