GRAMMY Capsule Wardrobe Collection Partnership with Mark Braster of Brast Studios News. The Recording Academy® has partnered with acclaimed designer Mark Braster of Brast Studios to launch a limited-edition GRAMMY® capsule wardrobe collection in anticipation for the 65th GRAMMY Awards®, airing on CBS and Paramount+ on Sun, Feb. 5, at 5 p.m. PT/8 p.m. ET.
The collection, When The Stars Align, featuring rising artists Bktherula and JELEEL!, centers around the excitement of music's biggest stars across all genres and generations coming together for one incredible night. The When The Stars Align collection will be available for purchase online at starsalignshop.com on Thurs, Jan. 26, at 11 a.m. ET. Photos of the collection can be found here.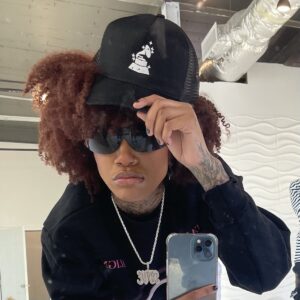 Proceeds from the collection benefit the Recording Academy's MusiCares®, the leading music charity providing music professionals health and human services across a spectrum of needs.
"Music and fashion have always gone hand-in-hand, pushing the boundaries of culture and defining style for each new generation," said John Loken, Executive Vice President of Marketing at the Recording Academy. "And because the GRAMMYs® have always honored the best in music, we worked with Mark and our partners at CBS to develop a collection that evokes what's next: where music is going along with the mystery of which stars will align at this year's telecast. This capsule is the first in a series of artist collabs with our brand in the years ahead."
"I am absolutely honored to be collaborating with the Recording Academy for this exciting GRAMMYs collection," said Mark Braster, CEO of Brast Studios. "Through this experience, I'm hoping to inspire others like me. When the stars align, you can overcome many obstacles."
Mark Braster is a creative director from Fort Wayne, Indiana. Braster has worked with several prominent names across the music and fashion industry, including Rolling Loud, SZA, the Los Angeles Lakers, Jack Harlow, Kodak Black, H&M, Lil Wayne, Neiman Marcus, Rick Ross, Young Thug, and more. As CEO of Brast Studios, he is currently the lead merch designer for Rolling Loud 2023.