In the exciting world of fashion, Rumer's Spring-Summer 2023 womenswear collection has taken the runways by storm. With a captivating focus on neutrals, whites, and bold pops of red and orange, Rumer presents a relaxed yet captivating style that will appeal to women from all walks of life.
Neutrals play a prominent role in Rumer's collection, offering a timeless and sophisticated aesthetic. Beige, warm taupe, soft greys, and earthy tones are expertly incorporated into the garments, creating a harmonious and understated elegance. These versatile shades effortlessly transition from day to night, making them suitable for any occasion.
White, a perennial summer favorite, graces the collection with its fresh and crisp appeal. Rumer showcases this classic color through beautifully tailored pieces and ethereal silhouettes. Whether it's a flowing maxi dress or a sleek pantsuit, white exudes purity and radiance, reflecting the essence of summer.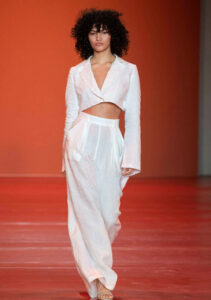 To infuse vibrancy and playfulness, Rumer introduces captivating pops of red and orange. These striking colors bring energy and excitement to the garments, making them stand out among the neutrals and whites. From fiery red dresses to vibrant orange accessories, these bold hues add a modern twist and create statement looks that demand attention.
The overall style of Rumer's collection is effortlessly relaxed and soft, offering a sense of ease and comfort. Flowing fabrics, gentle drapes, and relaxed silhouettes dominate the runway, ensuring that every woman can embrace the collection's aesthetic. This relaxed style allows for freedom of movement while maintaining an elevated and polished look.
Rumer's Spring-Summer 2023 collection celebrates women's individuality by offering a wide array of choices. Whether you prefer the understated elegance of neutrals, the fresh allure of whites, or the bold impact of vibrant reds and oranges, this collection caters to diverse tastes. Rumer's designs perfectly capture the spirit of the season, allowing women to effortlessly embrace their unique style and radiate confidence.
As summer approaches, keep an eye out for Rumer's incredible collection, which showcases the power of neutrals, the freshness of whites, and the vibrancy of reds and oranges. Get ready to embrace a relaxed and effortlessly chic style that will make you feel like a fashion icon. With Rumer, summer 2023 promises to be a season of style, grace, and self-expression.
Style Report Lela Christine