Halle Berry stole the show at this year's Oscars with her stunning cream dress adorned with rose gold roses. The dress perfectly complemented her radiant complexion and accentuated her toned figure.
However, it wasn't just the dress that caught everyone's attention, Halle's ombre wavy hairstyle is also a new trend among women with short hair. Her sun-kissed highlights and perfectly tousled waves added a touch of glamour and sophistication to her overall look.
Another standout feature of Halle's appearance was her perfectly toned legs, which were showcased beautifully in her dress. Her legs were well-shaped, and they added to her overall elegance and poise. It's no wonder she was among the top 10 best-dressed celebrities at this year's Oscars. Halle's fashion choices always seem to make a statement, and this year was no exception. She truly embodied elegance and sophistication in every aspect of her appearance, from her dress to her hair and her perfectly toned physique.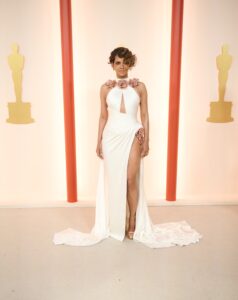 95th Oscars Academy Awards
Credit/Provider Kyusung Gong / ©A.M.P.A.S.
Report By Lela Christine