Karl Kani, the undisputed Godfather of streetwear, continues to make waves in the fashion industry. His groundbreaking style and influential designs have left an indelible mark, shaping the landscape of contemporary fashion. Now, Karl takes center stage in the latest NBC News digital documentary, "50 Years Fly: The Rise, Fall, and Revolution of Hip-Hop Fashion." This captivating documentary explores the profound influence of hip-hop on the fashion industry over the past five decades. From its humble beginnings in the streets of Brooklyn, Karl's creativity and originality have propelled him to become a true trendsetter.
One of Karl Kani's notable collaborations was with the late Aaliyah Dana Haughton, an American singer and actress who is widely recognized for her contributions to contemporary R&B, pop, and hip-hop. Aaliyah's talent and charisma captivated audiences worldwide, and her impact extended beyond music to fashion. Karl Kani played an instrumental role in creating Aaliyah's iconic fashion style. Aaliyah donned Karl Kani's designs, most notably on the cover of her debut album, "Age Ain't Nothing But A Number" in 1994, where she wore the unforgettable Karl Kani metal plate hoodie. The collaboration between Karl and Aaliyah continued with a custom racing jacket, which Aaliyah proudly sported on the cover of her sophomore LP, "One In A Million." Together, they pushed the boundaries of fashion and set new trends that resonated with fans around the world.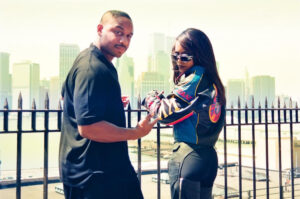 "50 Years Fly: The Rise, Fall, and Revolution of Hip-Hop Fashion" is a must-watch documentary that sheds light on the powerful influence of hip-hop on the fashion industry. Viewers can catch this riveting exploration by streaming the documentary on Peacock and NBC News NOW. The official trailer is available for viewing HERE, offering a sneak peek into the captivating narrative.
To ensure accessibility, the documentary is available across various platforms, including NBC's Peacock streaming service, NBC News NOW, NBCNews.com, and NBC News' YouTube channel. NBC News NOW can be accessed through popular streaming platforms such as Amazon Fire, Fubo, Hulu Live, Plex, Pluto TV, Samsung TV Plus, The Roku Channel, Tubi, TuneIn, Xumo, YouTube, YouTube TV, as well as NBC News' apps on Roku, Fire TV, and Apple TV. On June 18th, MSNBC will broadcast the documentary, followed by a roundtable discussion led by Trymaine Lee, where the documentary's themes and stories will be further explored. Karl Kani himself is expected to join the roundtable. Furthermore, CNBC will air the documentary at 10 p.m. ET on Monday, June 19.
Despite the passage of three decades, Karl Kani continues to thrive as a global fashion icon. This summer, he is set to release his newest collection, offering fashion enthusiasts yet another opportunity to embrace his trendsetting designs.
Stay tuned for more news and announcements from Karl Kani, as he continues to shape the future of fashion with his unparalleled creativity and style.